2023 DC Conference Posters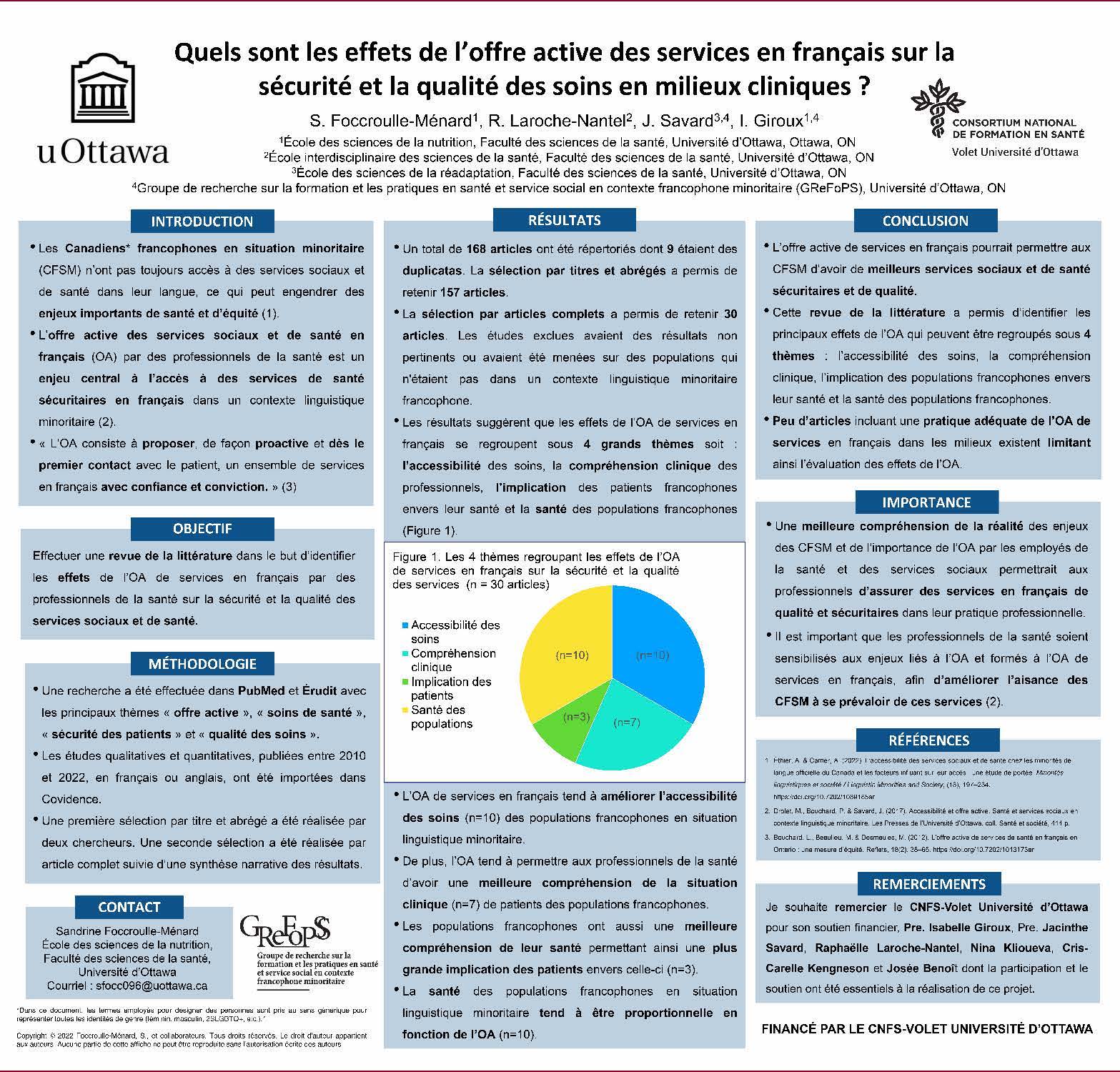 Quels sont les effets de l'offre active des services en français sur la sécurité et la qualité des soins en milieux cliniques ?
S. Foccroulle-Ménard, R. Laroche-Nantel, J. Savard, I. Giroux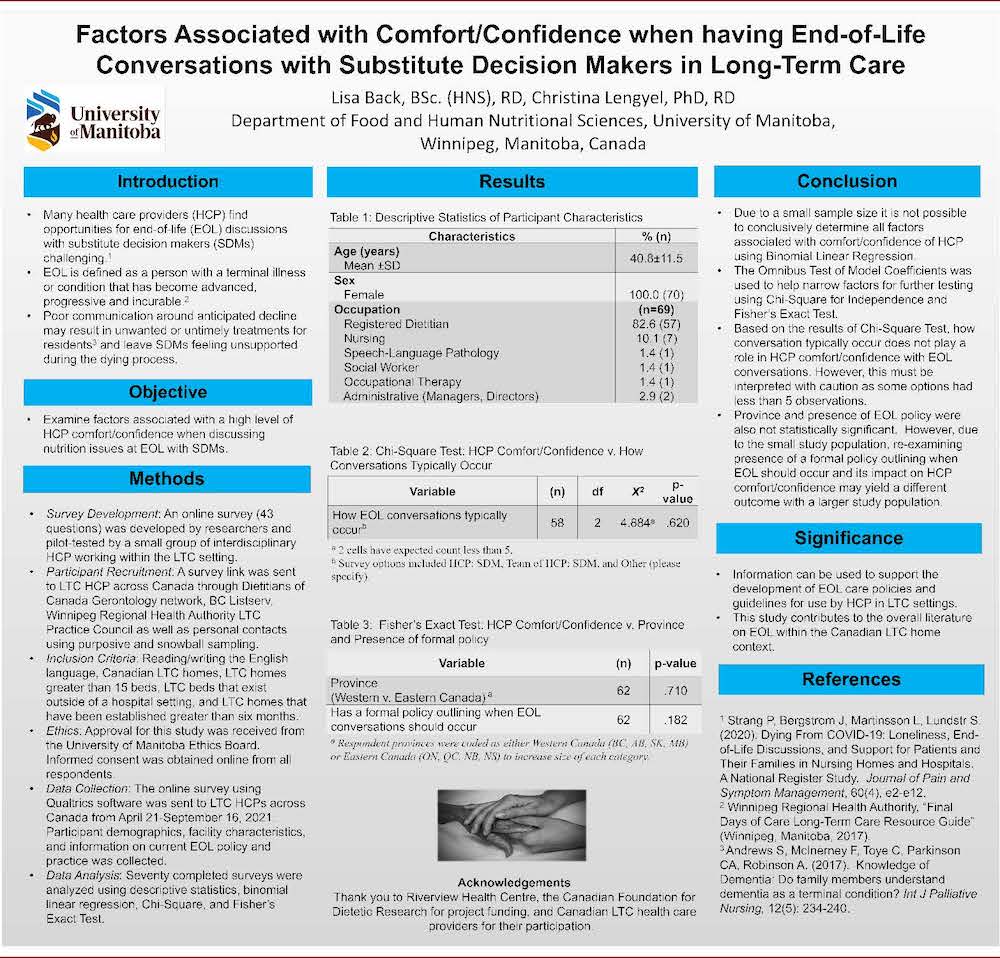 Factors Associated with Comfort/ Confidence when having End-of-Life Conversations with Substitute Decision Makers in Long-Term Care
Lisa Back, BSc. (HNS), RD Christina Lengyel, PhD, RD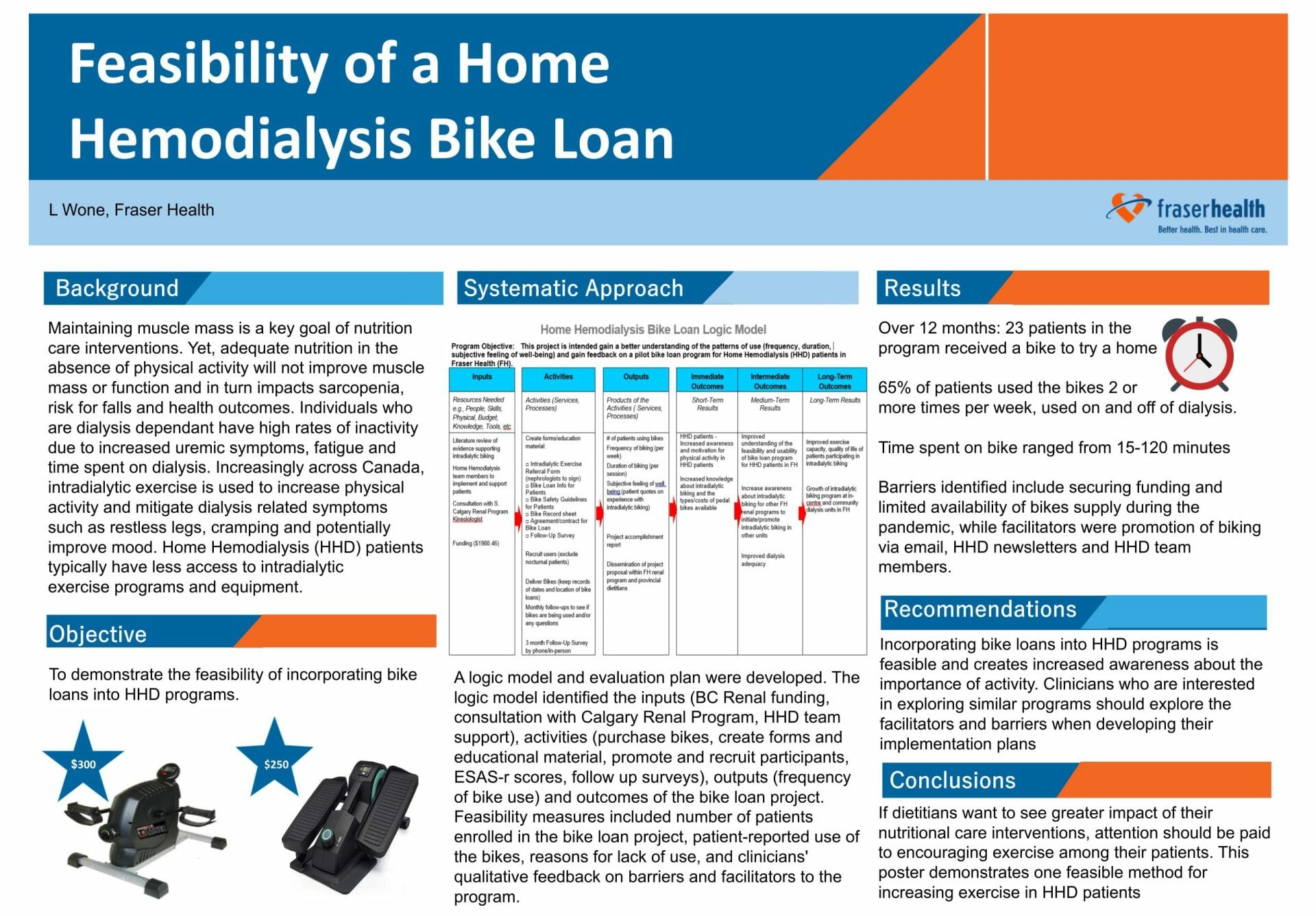 Feasibility of a Home Hemodialysis Bike Loan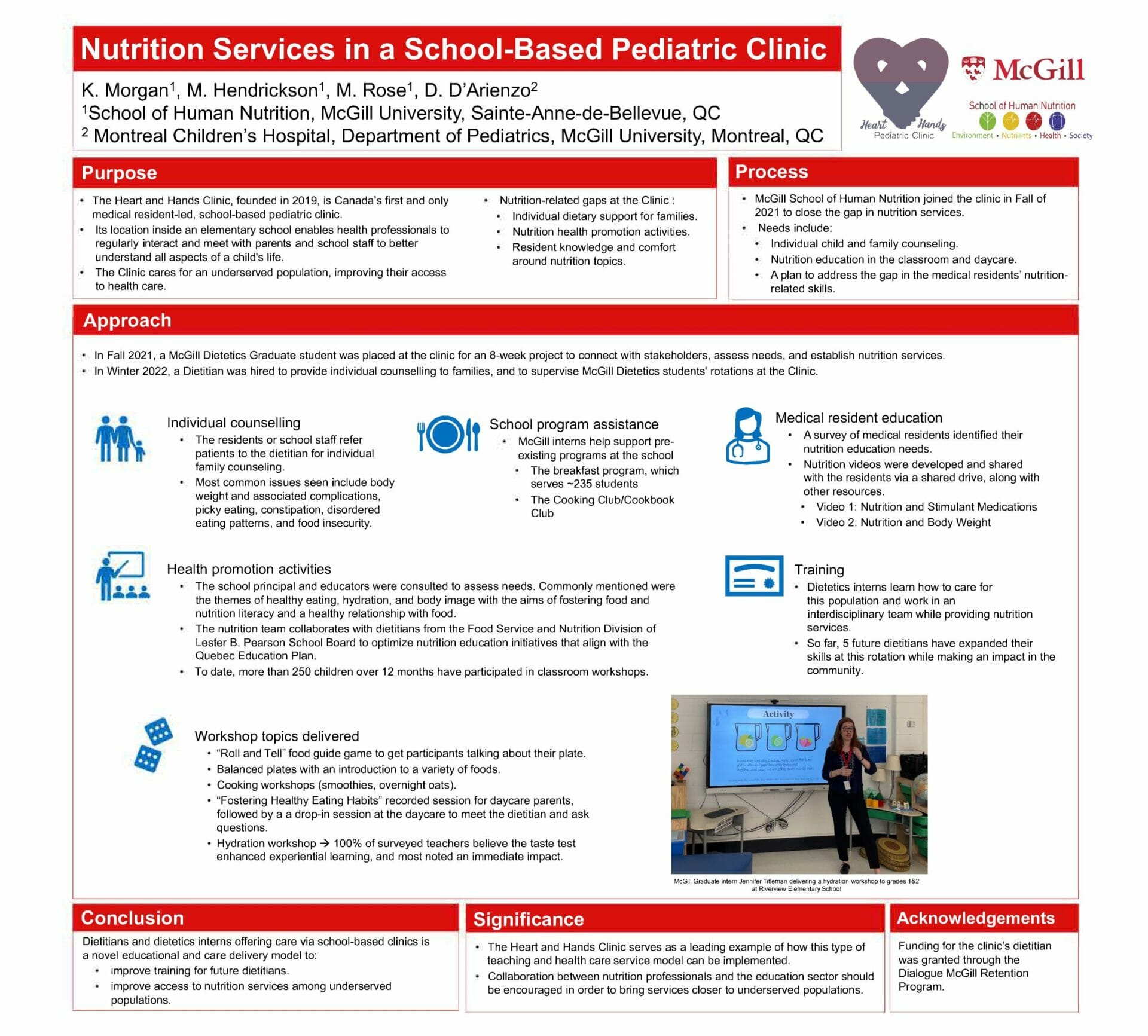 Nutrition Services in a School-Based Pediatric Clinic
K. Morgan, M. Hendrickson, M. Rose, D. D'Arienzo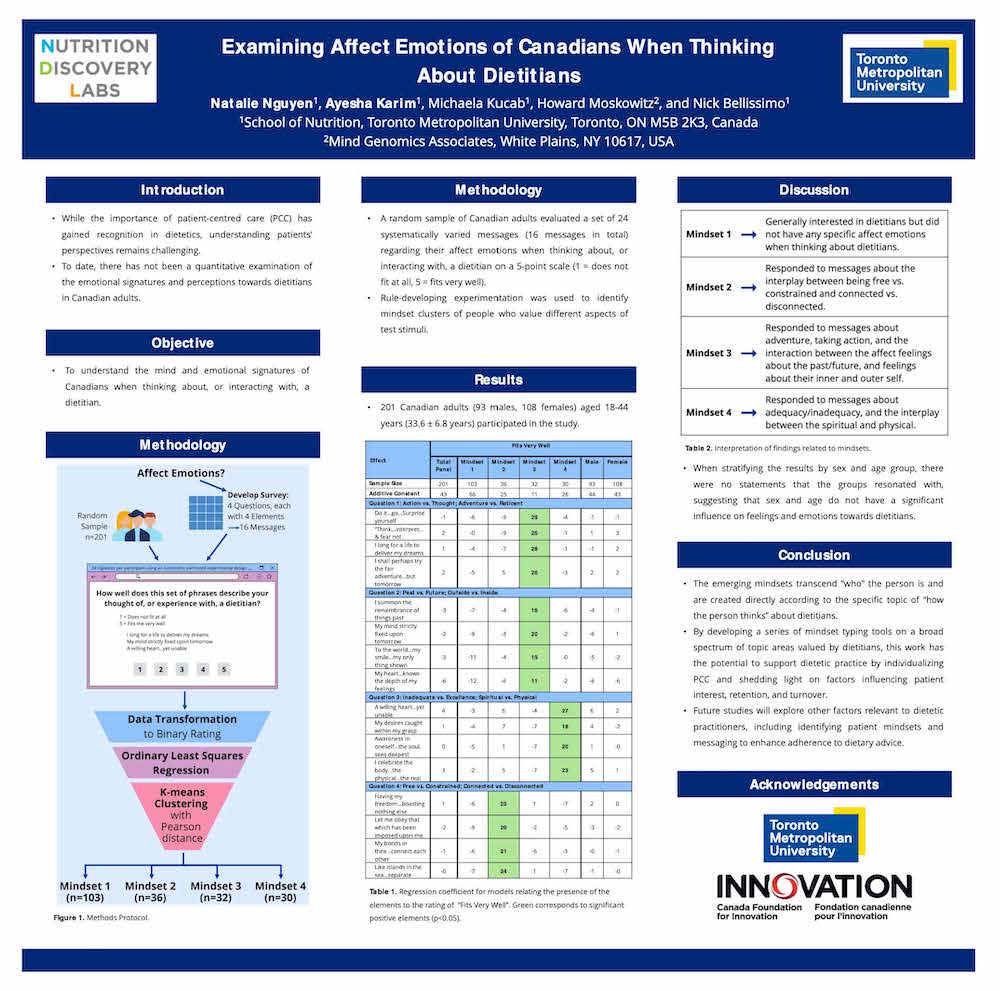 Examining Affect Emotions of Canadians When Thinking About Dietitians
Natalie Nguyen, Ayesha Karim, Michaela Kucab, Howard Moskowitz, Nick Bellissimo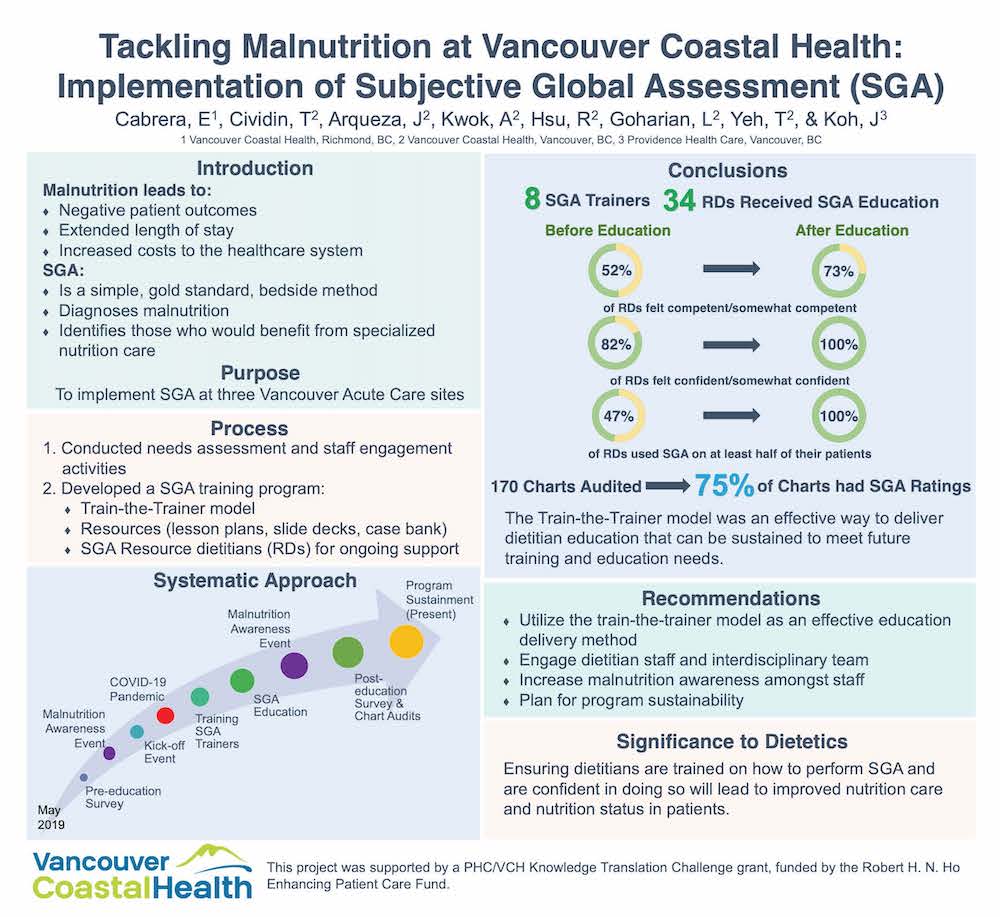 Tackling Malnutrition at Vancouver Coastal Health: Implementation of Subjective Global Assessment (SGA)
Cabrera E., Cividin T., Arqueza J., Kwok A., Arqueza J., Kwok A., Hsu R., Goharian L., Yeh T., Koh J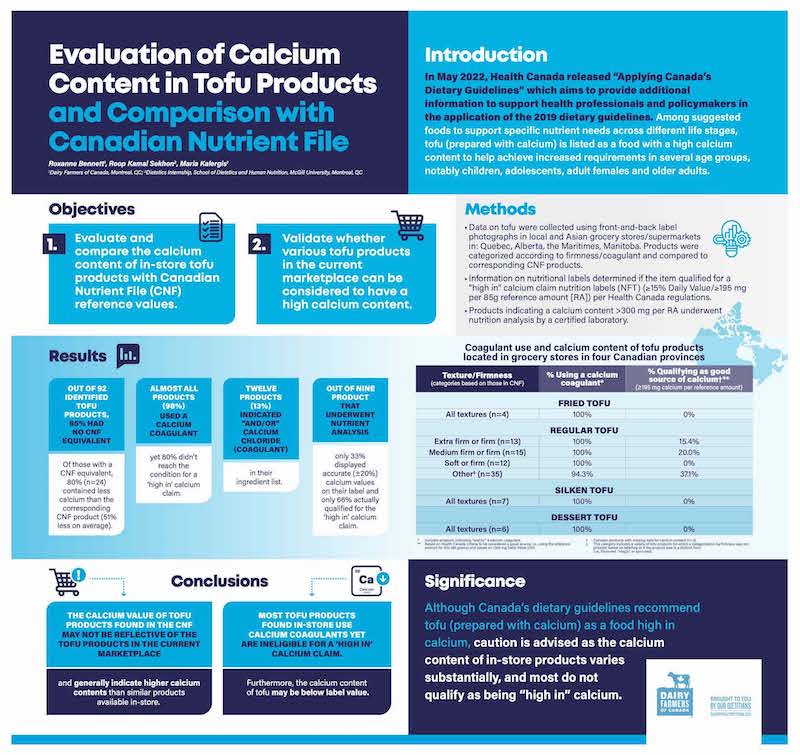 Evaluation of Calcium Content in Tofu Products and Comparison with Canadian Nutrient File
Roxanne Bennett, Roop Kamal Sekhon, Maria Kalergis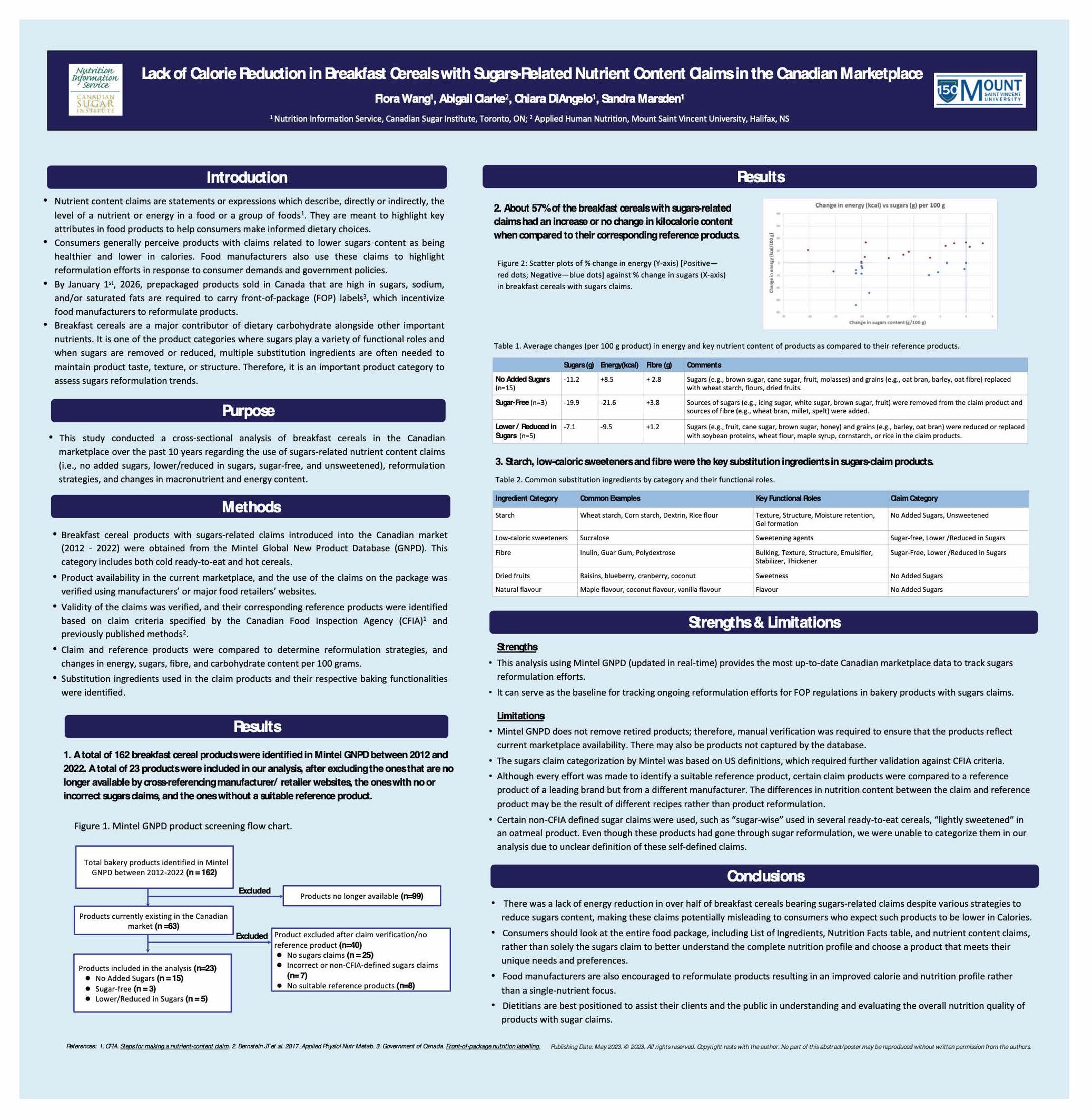 Lack of Calorie Reduction in Breakfast Cereals with Sugars-Related Nutrient Content Claims in the Canadian Marketplace
Flora Wang, Abigail Clarke, Chiara DiAngelo, Sandra Marsden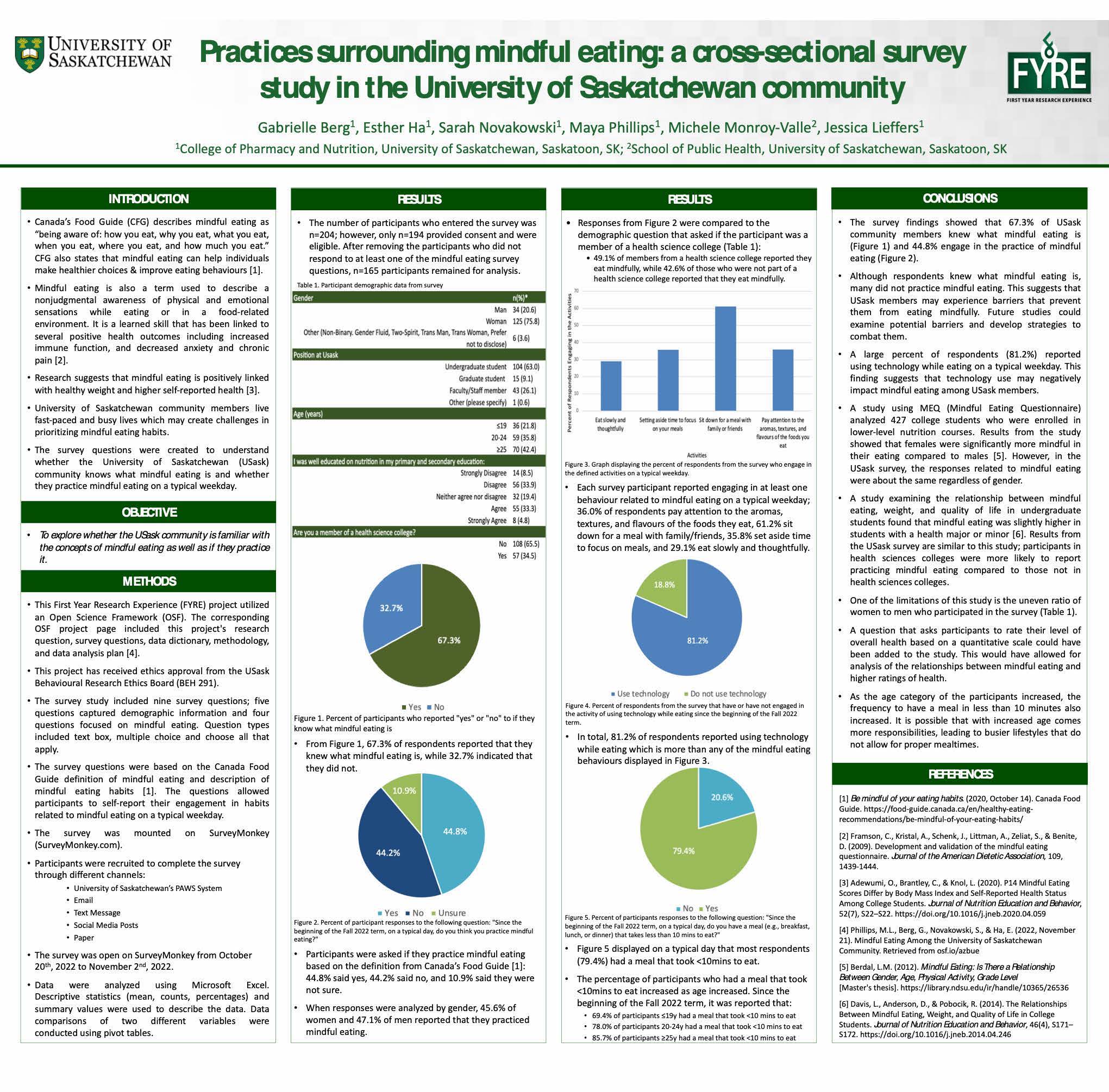 Practices surrounding mindful eating: a cross-sectional survey study in the University of Saskatchewan community
Gabrielle Berg, Esther Ha, Sarah Novakowski, Maya Phillips, Michele Monroy-Valle, Jessica Lieffers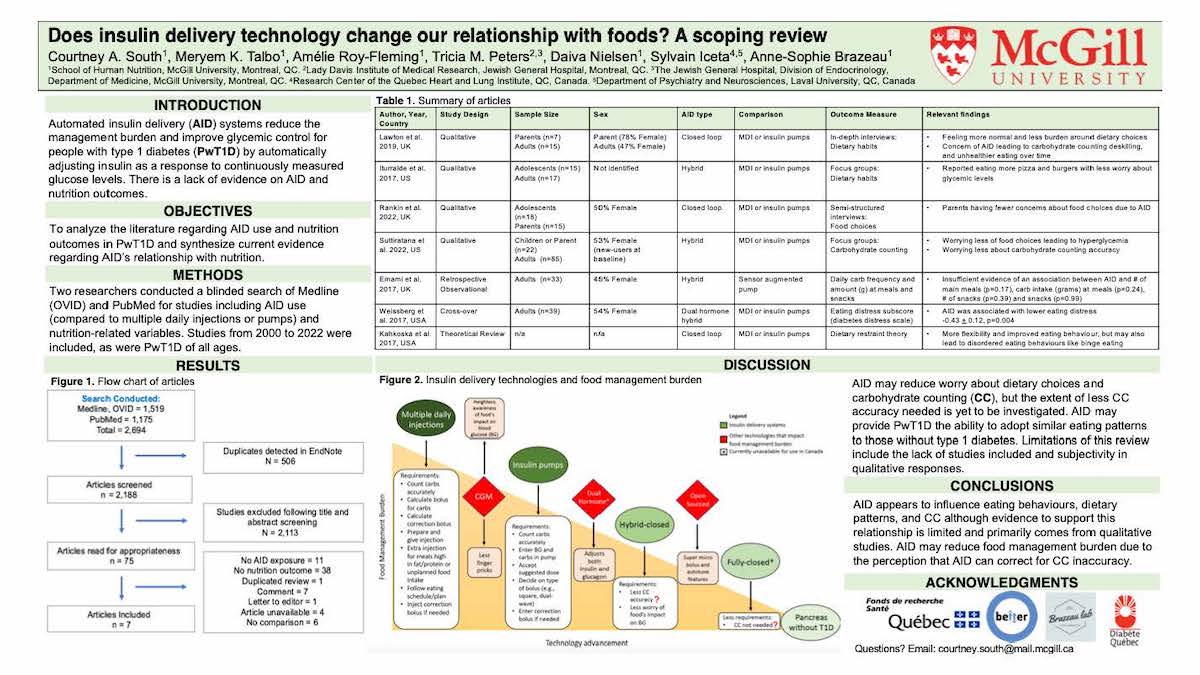 Does insulin delivery technology change our relationship with foods? A scoping review
Courtney A. South, Meryem K. Talbo, Amélie Roy-Fleming, Tricia M. Peters, Daiva Nielsen, Sylvain Iceta, Anne-Sophie Brazeau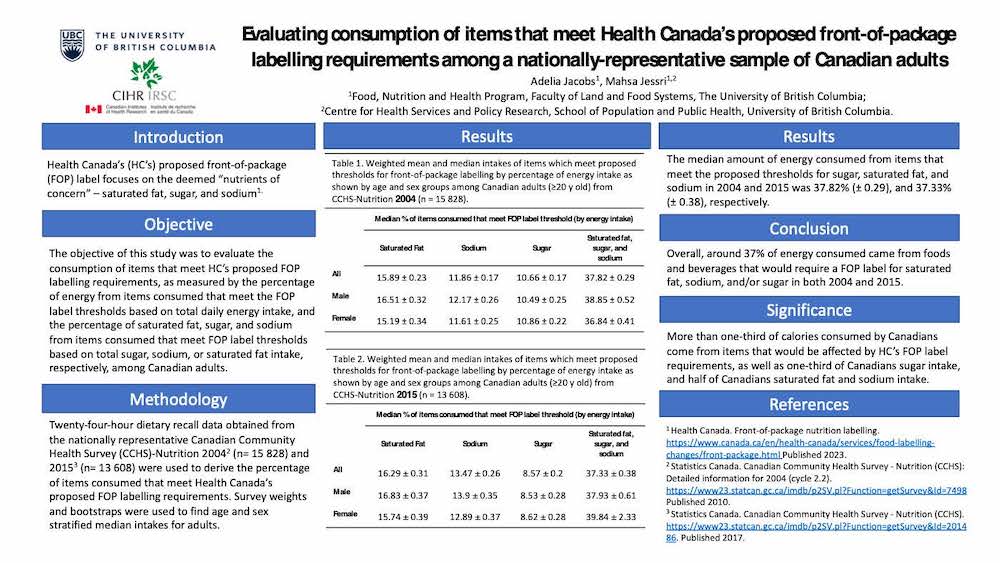 Evaluating consumption of items that meet Health Canada's proposed front-of-package labelling requirements among a nationally-representative sample of Canadian adults
Adelia Jacobs, Mahsa Jessri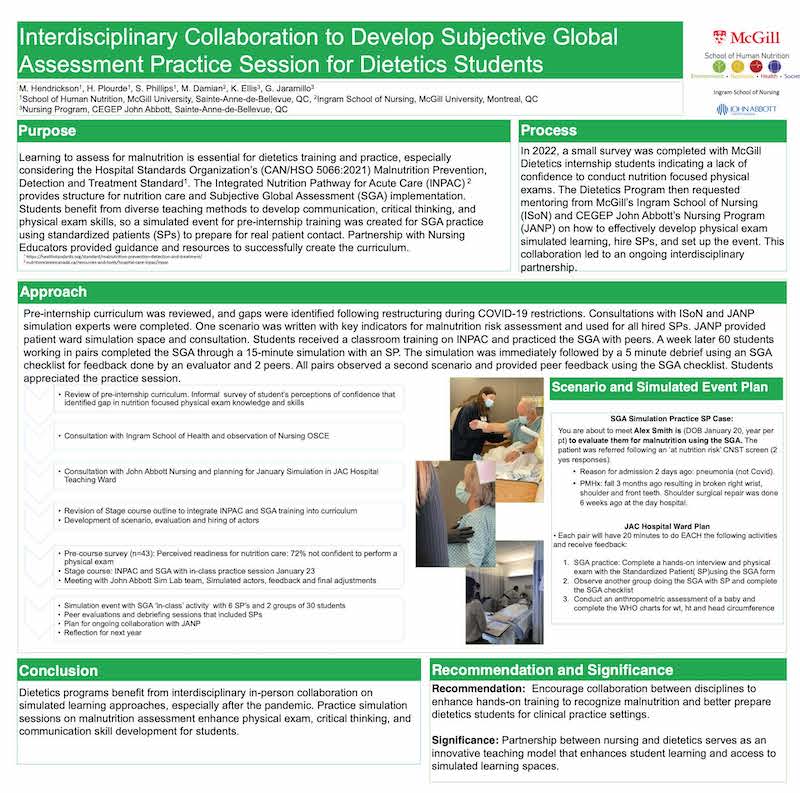 Interdisciplinary Collaboration to Develop Subjective Global Assessment Practice Session for Dietetics Students
M. Hendrickson, H. Plourde, S. Phillips, M. Damian, K. Ellis, G. Jaramillo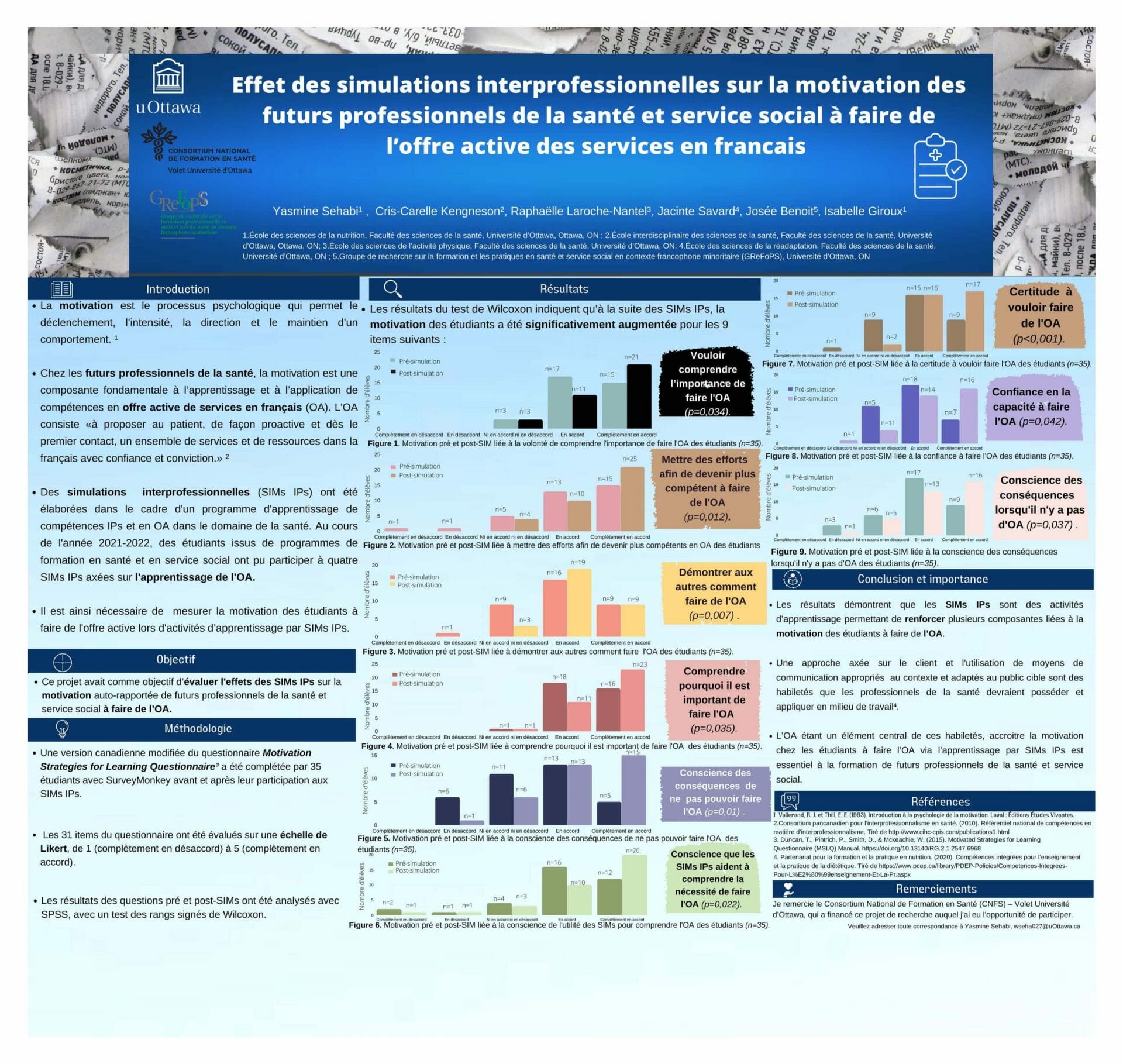 Effet des simulations interprofessionnelles sur la motivation des futurs professionnels de la santeé et service social à faire de l'offer active des services en francais
Yasmine Sehabi, Cris-Carelle Kengneson, Raphaëlle Laroche-Nantel, Jacinte Savard, Josée Benoit, Isabelle Giroux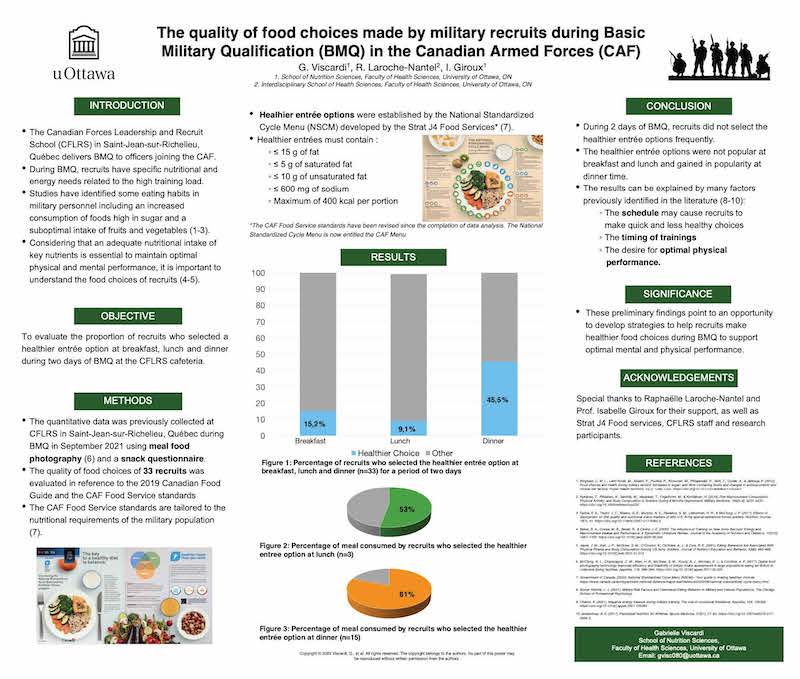 The quality of food choices made by military recruits during Basic Military Qualification (BMQ) in the Canadian Armed Forces (CAF)
G. Viscardi, R. Laroche-Nantel, I. Giroux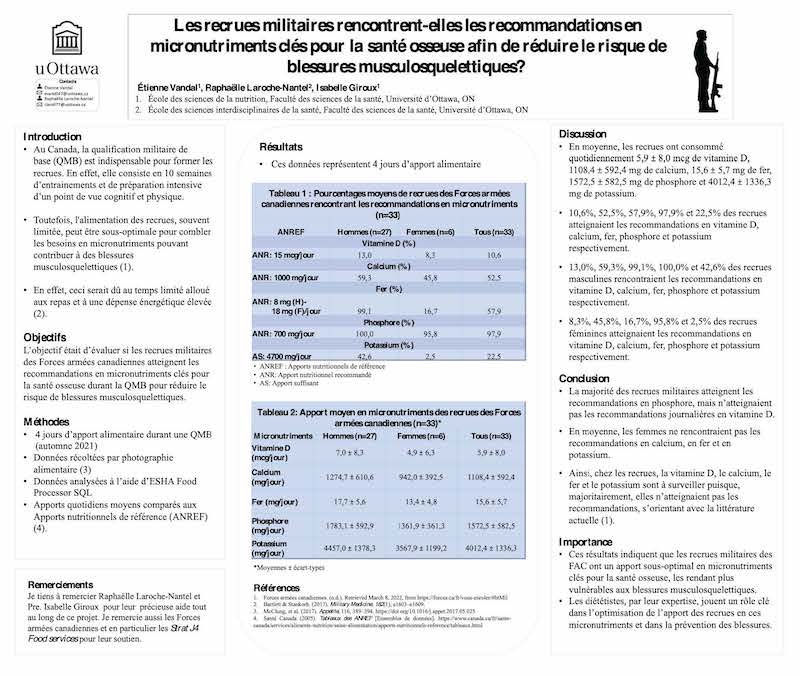 Les recrues militaires rencontrent-elles les recommandations en micronutriments clés pour la santé osseuse afin de réduire le risque de blessures musculosquelettiques?
Étienne Vandal, Raphaëlle Laroche-Nantel, Isabelle Giroux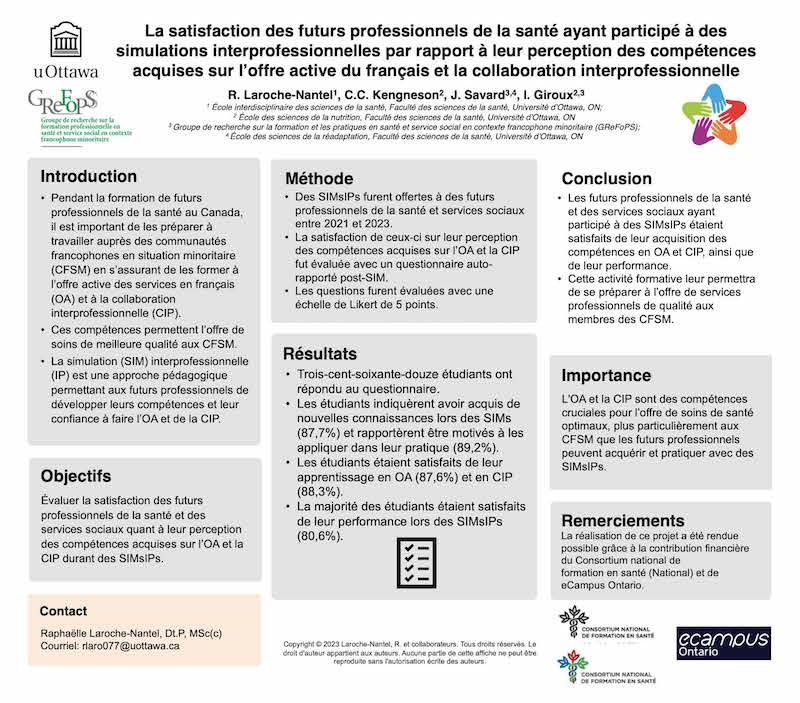 La satisfaction des futurs professionnels de la santé ayant participé à des simulations interprofessionnelles par rapport à leur perception des compétences acquises sur l'offre active du français et la collaboration interprofessionnelle
R. Laroche-Nantel, C.C. Kengneson, J. Savard, I. Giroux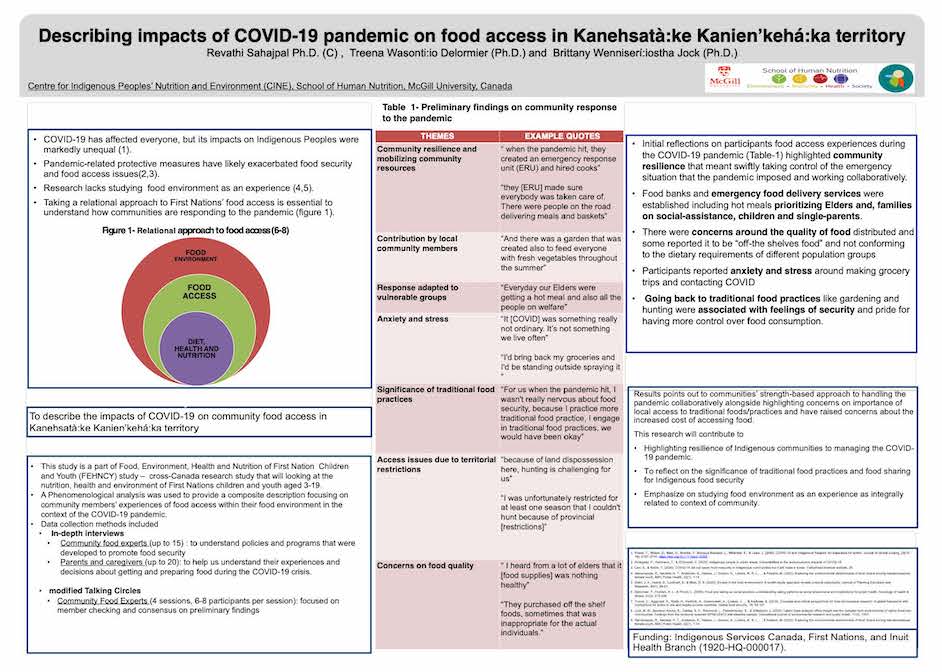 Describing impacts of COVID-19 pandemic on food access in Kanehsatà:ke Kanien'kehá:ka territory
Revathi Sahajpal Ph.D. (C), Treena Wasonti:io Delormier (Ph.D.), Brittany Wenniserí:iostha Jock (Ph.D.)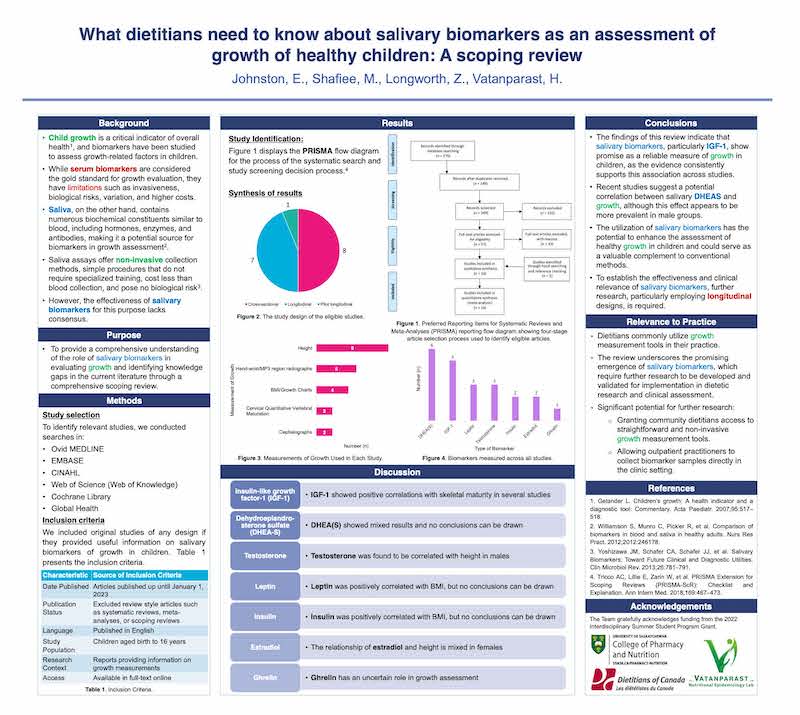 What dietitians need to know about salivary biomarkers as an assessment of growth of healthy children: A scoping review
Johnston E., Shafiee M., Longworth Z., Vatanparast H.
Subscribe to Our Newsletter
Sign up today to receive updates on upcoming events, the latest news and other opportunities to partner with CFDR
We Can't Do This Without You.
Donate today or contact us.